GENERAL INFORMATION
Why PP-RCT?
PP-RCT is a new generation raw material which is developed for polypropylene by using a special "β-nucleation" process.
Thanks to this enhancement, GF fibre-reinforced PP-RCT pipes withstand higher operating pressures at increased temperatures.
GF Aquasystem Multi-layered Composite PP-RCT pipes have a range of d20 to d160 mm with standard dimension ratios of SDR7,4 and SDR9.
GF Aquasystem Multi-layered Composite PP-RCT pipes are fully compatible with regular GF Aquasystem PP-R fittings and accessories. Even the welding parameters are identical!
PRODUCT BENEFITS
- Higher pressure resistance
- Higher working temperatures
- Reduced wall thickness compared to PP-R
- Better impact resistance
- Improved long-term durability
- Better flow rates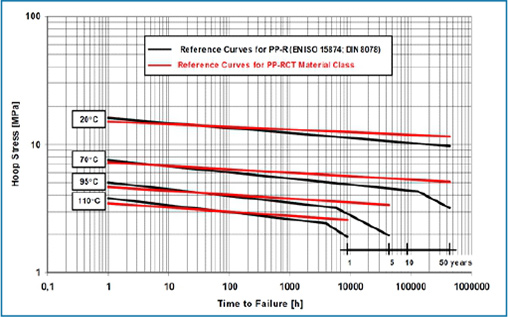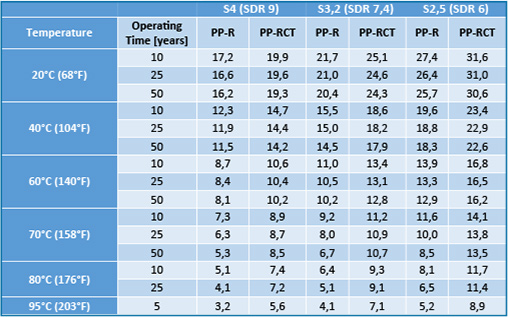 Comparison of same class of PP-R and PP-RCT of permissible operating pressures in bar (including a safety factor of 1.5)
Higher flow
For same outers diameters, reduced thickness means higher internal diameter which causes a higher flow rate.
Higher stability at higher temperatures
PP-RCT structure provides higher pressure at higher operating temperature.
Lower weight
Reduced wall thickness with PP-RCT leads to a lighter system.